St. Michael's Historical Society
St. Michael's Catholic Church, Tarnov, Nebraska
Welcome to the St. Michael's Church! Located in the village of Tarnov, Nebraska, in the heartland of the United States. The first Polish Catholic parish still operating in Nebraska. Opening in 1901, we are now listed on the National Register of Historic Places! On October 24, 1901, a special train, with passengers, ran from Columbus, NE to Tarnov for the Church dedication. Round trip fare at that time was 80 cents and all visitors were served dinner by the ladies of the parish. The dedication was done by the Bishop, Father Czech and the help of twenty to thirty additional priests.
Mass is offered every Sunday at 10:30am. The old school is now the Social Hall and Museum and the old Rectory is rented out for gatherings or overnight stays. Please check out The Michael House tab for more information.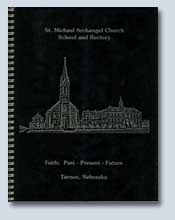 We also have the History/Church Directory books available for purchase. A great way to look into your families past and a great keepsake to hang onto. More information can be found on the Books tab above.
In July of 2019 St. Michael's became part of a new parish cluster. Our new cluster family is with Holy Family, St. Francis, and St. Mary's. Below is the current Mass schedule for our cluster:
Saturday Evenings: Holy Family - Lindsay: 5:00pm St. Francis - Humphrey: 5:30pm
Sunday Mornings: Holy Family - Lindsay: 8:00am St. Mary's - Leigh: 8:30am St. Francis - Humphrey: 10:00am St. Michael's - Tarnov: 10:30am
Thanks for visiting and we hope to see you soon!